Pinball Translite Frames
WE CAN CUSTOM CUT ANY SIZE FRAME YOU NEED, JUST CONTACT US AND WE WILL GET RIGHT BACK TO YOU SAME DAY WITH QUOTE.
E-Mail:
The fastest way to reach us for orders or questions is by e-mail
Sales@Spotlightdisplays.com
Note:
The frames listed here are cut for size 18.5" x 26.5" and fit the Twilight Zone pinball machine. If your translite is a different size, just purchase one of the frames below and send us an e-mail of the correct size and we will make the adjustment.
Pinball translites are another form of art. These frames can also be turned into light boxes. We do not sell light boxes but here is a link for instructions on how to DIY using our frames:Light Box.
Please remember, these frames are cut for translites sized 18.5" x 26.5", your translite may be a different size so you must measure before ordering. If your translite is a different size just let us know and we will take care of it for you. We can custom cut any size frame. Thank you!
ALL OF OUR FRAMES ARE FRONT LOADING.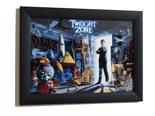 Price:
$64.95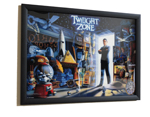 Price:
$59.95